Research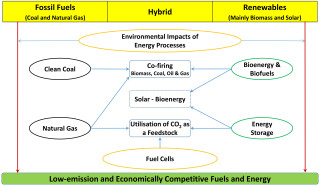 Key research in the Institute relates to the following themes:
1. Bioenergy science and engineering
Biomass gasification for distributed power generation.
Production of liquid fuels/chemicals and materials from biomass via pyrolysis and bio-refinery.
Bio-char for soil conditioning and carbon sequestration.
Please contact Professor Chun-Zhu Li for further details: chun-zhu.li@curtin.edu.au. A suite of bioenergy and biofuel technologies developed by the Institute have resulted in the formation of a spin-off company Renergi Pty Ltd.
2. Fuel cells
High temperature electrochemistry and solid state ionics.
Development and synthesis of nano-particles, novel catalysts.
Solid oxide fuel cells, solid oxide electrolysis cells, proton exchange membrane fuel cells, direct methanol fuel cells and high temperature proton exchange membrane fuel cells.
Please contact Professor San Ping Jiang for further details: S.Jiang@curtin.edu.au. Further details are below.
3. Energy storage
Investigate the properties of high weight % hydrogen storage materials suitable for transport applications such as cars.
Investigate high temperature hydrogen storage materials suitable for heat storage in concentrated solar power (CSP) applications.
Investigate the properties of low weight % hydrogen storage materials suitable for CST, static and heavy transport applications.
Please contact Professor Craig Buckley for further details: C.Buckley@curtin.edu.au. Further details are below.
Develop new ion conductors to be used as solid-state electrolytes in next-generation batteries.
Please contact Dr Mark Paskevicius for further details: M.Paskevicius@curtin.edu.au.
4. Coal science and technology
Gasification.
Oxy-fuel combustion.
Production of liquid fuels and chemicals from the lignite via pyrolysis and refinery.
Transformation of inorganic species in coal during conversion.
Utilisation of solid wastes from coal gasification and combustion.
Others, e.g. coal structure and properties.
Please contact Professor Chun-Zhu Li for further details: chun-zhu.li@curtin.edu.au.
5. Natural gas conversion and CO
2
utilisation
Novel membrane – for CO2 utilisation, O2 production and other uses.
Catalytic and/or electrochemical partial oxidation – for the production synthesis gas, hydrogen, liquid fuels and chemicals.
Fundamental catalysis.
Please contact Professor Gordon Parkinson for further details: G.Parkinson@curtin.edu.au.
6. Environmental impacts of energy processes
Life cycle analysis – Analysis of energy balance and CO2 emission in terms of full life cycle.
Reduction of air pollutants – NOx, SOx, Particulates.
Please contact Professor Chun-Zhu Li for further details: chun-zhu.li@curtin.edu.au.
Within the Fuels and Energy Technology Institute of Faculty of Science and Engineering, Curtin University, the Fuel Cell Research Group is being set up with the mission of pursuing fundamental research in fuel cell and practical applications of the electrochemical conversion and storage systems including fuel cells, supercapacitors and water electrolysis as an economical and efficient alternative for green power and energy. The main research areas of the Fuel Cells group are as follows:
Solid Oxide Fuel Cell (SOFC) – fundamental study of the electrode and electrolyte interfacial reactions and microstructural effect on the electrochemical reaction and transport phenomena; advanced nano-structured electrodes; mechanism of poisoning of anode and cathode, development of poisoning-tolerant electrodes for durable SOFC systems; and development of electrolytes and electrodes-supported tubular and planar types cells and stack systems for natural gas, biomass product gases and biofuels.
Proton Exchange Membrane Fuel Cell (PEMFC) ­ Development of high efficient Pt-based and non-precious metal-based electrocatalysts; development of novel inorganic high temperature proton exchange membranes based on heteropolyacid functionalized mesoporous silica nanocomposites; synthesis and development of novel highly ordered mesoporous polymeric membranes; development of non-covalent functionalized smart carbon materials as novel catalyst supports; fabrication and characterization of membrane-electrodes-assembly (MEA); design and fabrication of hydrogen and liquid alcohol based PEMFC power systems for specific applications.
Photocatalytic and electrochemical processes for fuels – Development of high temperature solid oxide electrolysis cells (SOECs) for hydrogen fuels; synthesis of syngas from CO2 and water; fundamental studies of electrode and electrolyte processes of SOECs and their degradation mechanism; development of highly efficient photocatalysts and electrocatalysts for water electrolysis.
Supercapacitors ­ Development of highly efficient and durable novel carbon and oxide-based electrode materials for supercapacitors; fundamental studies of the charge and discharge process and the microstructural stability of supercapacitor and pseudo supercapacitors; development of supercapacitor systems and devices for practical applications.
Contact the Fuel Cell Research Group
Professor San Ping Jiang
Phone: 61 8 9266 9804
Mobile: 0478325485
Fax: 61 8 9266 1138
Email: s.jiang@curtin.edu.au
The HSRG is well equipped to measure the hydrogen storage properties of a range of materials and has the following facilities/equipment:
Facility for studying the sorption properties of gases by nanostructured materials (funded under a 2009 ARC LIEF grant)
Residual Gas Analyser
Supercritical Fluid Chromatograph Facility
7 sets of manometric gas handling apparatus (4 automatic, 3 manual)
Coupled hydride system and heat engine
High pressure facilities (up to 2 kbar)
A range of furnaces, gloveboxes, mechanical mills and cryomills
The HSRG also has access to X-ray and microscopy equipment (SAXS, XPS, XRD, TEM, SEM) and other characterisation facilities on site.
Given the necessity of the international community to decrease its dependence on fossil fuels it is no longer a question of will a transition to the solar hydrogen economy occur, but when? One of the key stumbling blocks of implementing the hydrogen economy is the issue of how to economically store the hydrogen. Therefore hydrogen storage is a hot topic at the present time due to the emerging market in clean vehicular transport as well as the market for static applications. If a suitable hydrogen storage medium was to be discovered it would revolutionise the energy sector by its implementation into many of the 1.2 billion cars on the planet. The increasing use of solar and wind to produce electricity, especially for off grid power necessitates the need to find a suitable storage system for the excess electricity produced. It has been shown that the use of a hydrogen storage material in conjunction with an electrolyser and fuel cell has several advantages over that of a Li-ion battery, with the added bonus that a metal hydride storage tank has 2- 3 times greater longevity than a Li-ion battery. High and low temperature hydrogen storage materials have the potential to replace molten salts as the heat storage medium for electricity production at night (or non-sun periods) in concentrated solar power (CSP) systems.
The Hydrogen Storage Research Group (HSRG) at Curtin University aims to produce technologically viable new hydrogen storage materials that will meet the ground transportation and static applications associated with a transition to a solar hydrogen economy. The potential benefit in the advanced materials sector would be great, given the scale of the automotive industry. The research focus of the HSRG is to conduct fundamental research on hydrogen storage materials for automobile applications and for heat storage applications (predominantly CSP applications), that will contribute significantly to the development of the solar hydrogen economy to meet the future sustainable energy needs of Australia. Such technology innovation will provide significant benefits to Australia for the near future sustainable solar hydrogen economy. The research also fosters the training of professional researchers in this dynamic and frontier research field contributing to the overall competitiveness and productivity of Australia's R&D.
The HSRG is researching the following materials as suitable candidates for hydrogen storage applications:
High temperature hydrides such as Na, Ca, Si, Mg, Al and their alloys, and low temperature hydrides for CSP applications,
Porous metal frameworks for the nanoconfinement of high wt.% hydrides that will contribute to a destabilisation effect, which will lower the hydrogen desorption temperature of the hydride making it suitable for automobile applications.
Contact the Hydrogen Storage Research Group
Professor Craig Buckley
Phone: 61 8 9266 3532
Mobile: 0401103602
Fax: 61 8 9266 2377
Email: c.buckley@curtin.edu.au